Pinney, Pinney , Pinney, Pinney !!!! Sweeps Redlands.
Winning does not come easy at Redlands. Race day will always have a fast guy or gal that's called a winner. Often they make it look easy, but how is it they end up on the top step of the podium? When talking with Ryan Pinny he is quick to recall his early racing experiences chasing guys like Carlos Moleda and Matt Updike. "I was a mid-pack guy with Paralympic dreams".  His road has been rocky to say the least and for many it would have been enough to tap out of competing all together. Obviously that's not the case for Ryan. He has come back with the support of family, friends and teammates to excel. He is a contender because of persistence and tenacity. Later this year he will be racing in Europe with hopes of locking in his bid for a trip to Tokyo. Below are a few pics that demonstrate where he was and where he is now.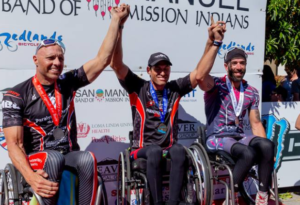 Not to be upstaged by any measure. Other top performers were Team USA members Will Groulx and Alisha Dana. Both were using Redlands as tune up races and were victorious in their respective classes. Jerry Young earned 1st in H4, newcomer WH5 Lera Doederlein performed well while working with veteran racer Solomon Revils. Ryen Reed lost some skin on the course but finished first in her class as well. Barry Wilcox was the lone H1 competitor. The MH3 class was large and offered much competition and jockeying for position during the 4 races.
Teams that were present in force were Team PossAbilities, Paralyzed Veterans of America Racing, University of Arizona Handcycling Team and new to the scene Nexus Endurance/Challenged Athletes Foundation.
A big thank you to Team PossAbilities at Loma Linda University Medical Center for working closely with the Redlands Bicycle Race staff to ensure another well run race.
Race Results
photo credits to Freddie Delossantos, Jeff Rusk , and Team Possibilities