Every dog has his day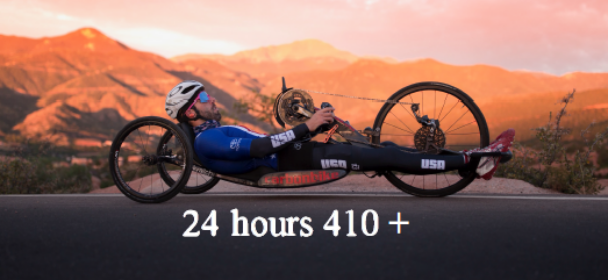 86,400 seconds……
24 hours in a row of anything is a lot. Try staying in bed for 24 hours. I cringe at the thought. Binge watching your favorite TV series? Tedious and tiresome. I drove my car for 18 hours on a long trip, only stopping for gas – by the end I was exhausted. The 24 hour distance record held by a handcyclist is 410 miles. Let's be clear, not everyone that sets out on a 24 hour endurance event has a world record goal to break. It's a great compliment to be considered as someone who could break it. Brandon Lyons "the bambino" is one of those athletes that, when he registered to do this 24 hour time trial challenge, his friends and social media followers' thoughts were: "he's going to set a new record"!
2021 thus far hasn't exactly gone the way Brandon drew it up. Personal goals that were seemingly achievable slipped away. The competition level is high, and while striving to achieve a position on the Tokyo Paralympic team, Brandon  dug a deep hole over training that left him feeling flat on important race days. Then a bout with a severe infection knocked him out of any chance of a Paralympic position. When talking to Brandon about his year he said, "true it has not been what I wanted, but failure is an opportunity for improvement". Truly an optimistic perspective that has served him well.

The Tokyo Paralympics was hard for Brandon to watch. Initially he was going to avoid them due to his disappointment of not making the team. He tuned into the paratriathlon to watch a few friends that were competing and was ecstatic over the finish of the women's race. The excitement helped lessen the sting of not being there to compete. As you can imagine, he found himself firmly planted in front of the TV to watch paracycling. Watching the event triggered him: He never lost the desire to be on the team, and watching the races made him want to be competing at that level even more. The drive is alive!
The Borrego Springs RAAM 6-12-24 Time Trial Championships on October 8th is where the Bambino will lie down in his handcycle for 24 hours to attempt to break the record of 410 miles. Brandon is a numbers guy, and he has the 24 hours well mapped out: When he intends to stop for breaks, how long the breaks are, how many calories he will burn, how much he should drink and eat, power output, and waypoints are all configured. When asked if he would complete the 24 hours even if breaking 410 is out of reach, he said "Absolutely. I will ride for 24 hours, the goal is riding for 24 hours. If I achieve a record setting distance that's a bonus and makes it all the sweeter." Brandon excels at holding a high endurance pace for long periods – he's accomplished many above 20 mph 100 mile efforts over the last few years. But a 24 hour continuous effort at consistently high power will be a challenge, even for this proven endurance athlete.  The Borrego Springs course can be made more difficult by wind and temperature swings from daytime to nighttime. The roads are a slow granular surface, and elevation gained at the 400 mile marker will be approximately 5000 feet. Nevertheless, he has all the potential to be in the 420 mile range if all goes right.
Brandon has ridden in the CAF Million Dollar Challenge, a fundraiser event that takes riders down the Pacific coast in California. It's a difficult course that spans 640 miles in 7 days. This event is where, by power of suggestion, he first thought of the 24 hour time trial as something he would want to try, possibly even a precursor to a solo RAAM attempt. Brandon isn't a stranger to ultra endurance events. In college, he participated in the well known Penn State dance marathon, "THON", where participants dance for 46+ hours. He progressed to the final dance floor where he made it a crazy 46 hours. Notably, his effort  helped raise money to fund pediatric cancer research.
The Bambino has one of the best social media platforms anyone in handcycling has developed, though this was never his goal. His intention, he says, was to chronologically track his progress and share it with others. One thing  led to another, and his Instagram followers are now more than double that of many Paralympic gold medalists. In a way, he has now branded himself; in a niche marketplace, he can be deemed an influencer. Brandon is honest and open about his pitfalls as well as his successes, which is an inviting stance. His social media prowess has gained him some sponsorships that may not have come along without it. Positivity reigns and Brandon's optimism keeps him moving forward, no matter what the outcome.

I believe on 10/9/21 at 5 pm, Brandon Lyons will be holding a new 24 hour distance record. It will be his day. I think it will be very difficult for him due to the nature of processing all the calories and water necessary to keep the engine making energy. The recumbent position and paralysis simply don't lend themselves to easy digestion. It may take a couple of 24 hour tries for Brandon to really reach his full potential ironing out the proper diet and other factors. My early prediction is 416 miles. Fingers crossed and best of luck goes out to him !!