LOAN TO WIN PRGRAM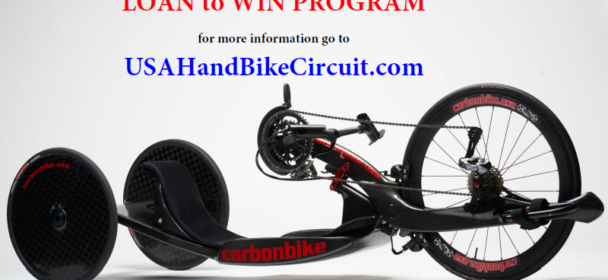 USA Hand Bike Circuit would like to announce the "Loan to Win" program. The cost of a competitive handcycle is not achievable for many athletes just getting into the sport. An anonymous donor recognized this and wanted to help by donating a Carbonbike RevoX-33 racing handcycle to an athlete that is training to race and aspires to achieve the USA National team. The handcycle will be on loan to the individual for one year for them to train and race on. The individual will be responsible for maintenance of the handcycle and required to return the handcycle in the same working condition they received it in. Shipping to and from their location is the responsibility of the grantee.
Please apply by sending a letter with the following information. Name, address, phone #, racing classification and a description of what races you've done and plan on doing. Additionally, express why you like racing and training. Two references and their contact information will also be necessary. Email to

[email protected]

.  Applications will be accepted August 1st – September  25th 2021. The grantee will be announced on October 1st, 2021.