Humble Pie served in Huntsville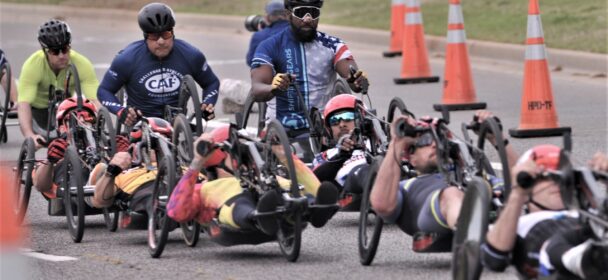 Being humble is easy for some. Tom Davis (H4) served humble pie to all those at the table this past weekend. Strictly talking TT results, he was the fastest handcycle in Huntsville, blistering through the 15 km course in a time of 20:43. 
Even H5 Oz Sanchez had nothing on Davis, ending up 2+ minutes back. H4 Travis Gaertner had the second fastest overall time, 20 seconds behind Davis. H3 Ryan Pinney's time was third fastest overall, followed by H4 Owen Daniels in fourth, a second faster than Sanchez. Daniels and H3 Kevin Hillary both had outstanding performances in "the race of truth".
 The TT course on paper looked to be very technical but rode much differently in real life. The climbs were steady, manageable grades and all corners except for one could be taken at speed. It was a great track for athletes to strut their stuff. The modest crowd of spectators that gathered in my location to view the time trial were eager to absorb the day's event. Their reaction to Tom Davis as he motored by was nothing short of jaw dropping – his speed was clearly faster than most of his competitors while he raced against the clock. 
In the past four years, Tom has been arguably the most influential handcyclist in the U.S: His steady improvement and confidence on and off the bike have enabled him to mentor many other athletes, as when nearly twenty athletes raced and trained together at a race camp he held last year. Often, athletes retract and become unsociable when they reach a level where Tom is. Thankfully, he has done the opposite.

  
On the women's side of the TT, all eyes were on the contest between H3 Alicia Dana, H3 Jenna Rollman and H4 Ryen Reed. Race favorite Dana posted the time to beat as expected, coming in at 25:42. Jenna Rollman had a great race and used her power to get within striking distance of Dana, finishing just 1:24 back.  The next TT where these two face off could be even closer. Rollman showed significant improvement since the 2019 season. Oksana Masters cruised to victory in WH5 and will likely continue cruising all the way to Tokyo. Reed's time of 29:52 put her on top of the WH4 podium.
   The road race had a twist added to it by the U.S. Paralympics Cycling committee this time around. They put their collective heads together and for the men's race, decided H5 kneelers would start with H4 long seats while the H3 crew started a full two minutes later. I can assume this was in an effort to promote interclass class racing which it absolutely did. The H3 favorites were toe to toe for the entirety of the contest. Pinney slammed the door shut in the final 100 meters to cruise to victory as Lyons faded to second, followed by race weekend surprise Kevin Hilllary, who tagged along for third. H4 was won by favorite Tom Davis, followed by Travis Gaertner and Owen Daniels. In H5, Oz Sanchez was able to escape with Davis and Gaertner early in the race but was eventually dumped by them with some extreme tactics played by the H4 duo. Sanchez held on for the H5 victory over Freddie DeLosSantos, David Berling and Dan Cnossen. These three treated a few H4's that were able to hook on for an easy 30 mile tow. DeLosSantos, a confident sprinter, knew that the last 200m meters would be Game On. He dialed the power up and slid in for second place followed by Cnossen then Berling.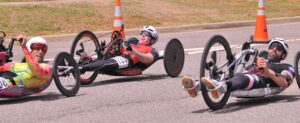 It was a treat to see the women's team Nexus/CAF represented well in Huntsville. They have a professional approach to racing and are under the tutelage of Carlos Moleda who has a lifetime of experience to share with them. The road race had a game plan for the team to have finishers from the squad go one two three, but Jenna Rollman had different plans. Despite Dana and Masters' efforts to keep Ryen Reed in touch,  Reed found the pace a little hot, and her teammates left her to do battle with Rollman on her own. Rollman's fast descending got the better of Reed, and the two ended up time trialing their way in, finishing 3d and 4th, respectively.  Rollman is outnumbered by the Nexus/CAF Team, and needs a teammate to help in these situations, or a game plan to unravel their teamwork. The women's race was decided on the last climb: With the finish line in sight, Dana made a final sling shot effort to drop Masters. This calculated move by Dana almost worked but Oksana Masters' motor was too strong. She recovered from the attack to pull Dana back and pass her for the overall win.

 
Huntsville rolled out the red carpet for the competition. News coverage was ample on the local TV networks and newspapers; businesses and the local school where the Start/Finish was located supported the event and the athletes. All this was comforting for the athletes who had to be there five days minimum, due to the covid policies in place.